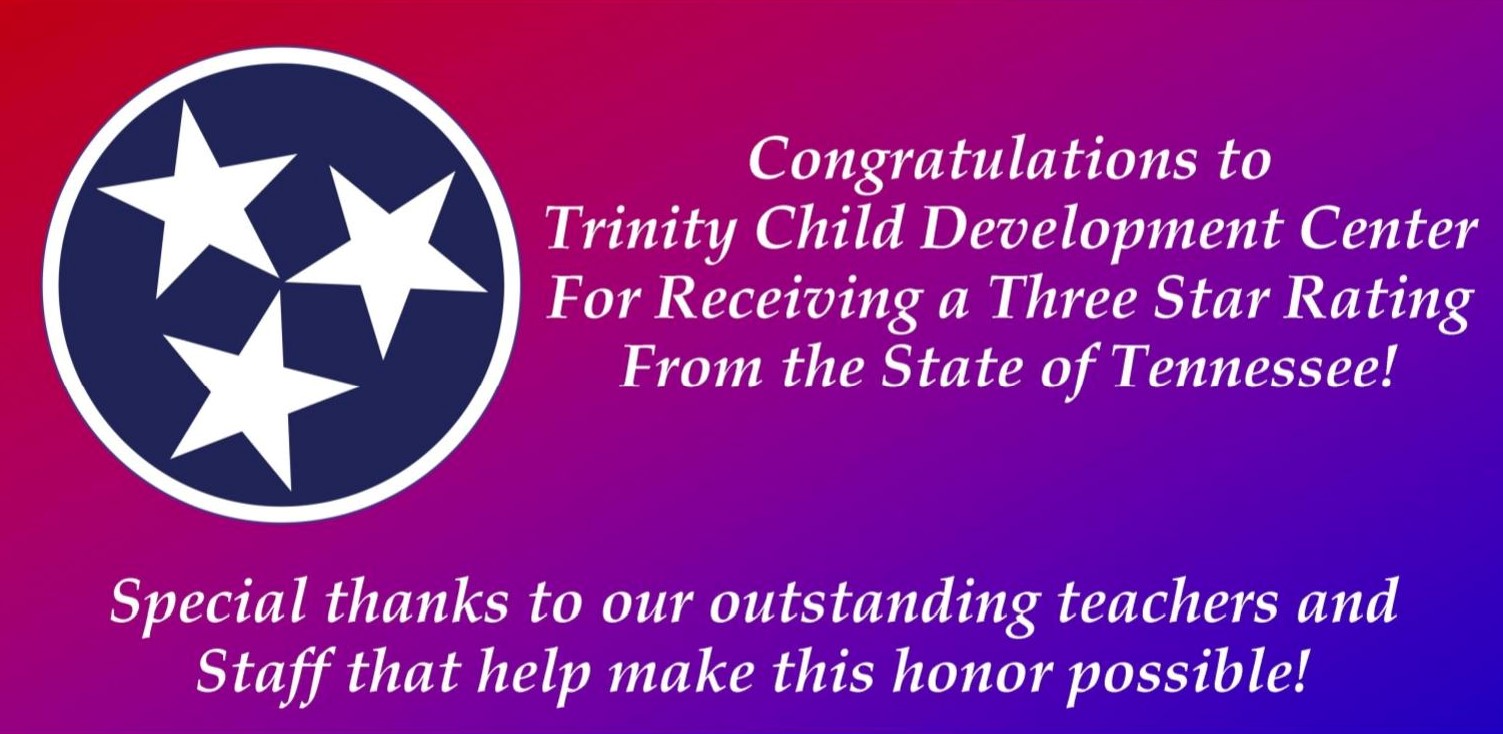 Trinity Child Development Center
Office Phone: (865) 588 – 6833
Fax: (865) 588-0103
STATEMENT OF PURPOSE
Trinity Child Development Center (TCDC) is a mission of Trinity United Methodist Church, operated on a non-profit basis. The Center creates a Christian atmosphere where each child experiences being loved, accepted and cared for as an individual. Opportunities are made for each child to grow and develop at their own pace intellectually, physically, emotionally and spiritually.
TCDC is rated a "three-star" program by the Sate of Tennessee. For more on what that means for you and your child, please click here.
TCDC is a growing and thriving outreach ministry of Trinity UMC. The Center has a program for children 6 weeks old to pre-kindergarten that operates from 7 a.m. to 6 p.m. and an after-school program for kindergarten through 5th grade that is open till 6 p.m. During the summer, TCDC operates an all-day program for all children 6 weeks through fifth grade.
TCDC does provide care for in-service days and most school holidays.
TCDC engages children with "hands on" activities while incorporating a Christian curriculum. The curriculum is age-appropriate with activities that promote fine/gross motor skills; social skills; factual knowledge and spiritual growth. In addition to lesson plans, each classroom is equipped with Activity Centers that enable children to learn independently through play. The Centers consist of blocks; dramatic play; music; art; writing/language; science and reading.   Lunches and snacks are provided daily. If you would like more information on TCDC, please call our office at (865) 588-6833 or email the center director, Carol Williamson.
Rates
WEEKLY TUITION RATES: Effective September 1, 2017 – August 31, 2018
Infant 1 (6 weeks – crawling)                                 $180
Infant 2  (crawling – 15 months)                           $180
Toddler 1 (15 – 24 months)                                    $160
Toddler 2 (24 – 36 months)                                   $160
Preschool 1, 2, and Pre-K (3 years – 5 years)     $145
After-school Care (Kindergarten – 5th Grade)  $75
For Children enrolled in our afterschool program, 1/2 days, in-service days, MLK holiday, Spring Break,  Fall Break, Thanksgiving, and Christmas will be an additional $10 per day if you choose for your child to attend.
MORE BENEFITS TO TCDC
High teacher/student ratio
Outdoor playgrounds as well as an indoor gymnasium
Excellent program evaluations from the State of Tennessee (3 Star)
After School Transportation to the TCDC facilities
Snacks provided after school
Daily devotional time
Exciting fieldtrips: The Knoxville Zoo, The Muse, The Library, Knoxville Botanical Gardens, Swimming, & More.